Good afternoon Lawrence Elementary School! Our Mental Wellness Spirit week begins on Monday, April 26th. Let's work together to learn about the importance of Mental and Physical Health on Academic Success! We will celebrate the many ways we can impact our brain and body in positive ways. On Friday, April 30th, students and staff will wear our matching T-shirts. Full remote learners, please watch for a message on how and when to pick up your shirt. A letter and flyer with the week's events can be found at:
https://core-docs.s3.amazonaws.com/documents/asset/uploaded_file/1222514/LES.pdf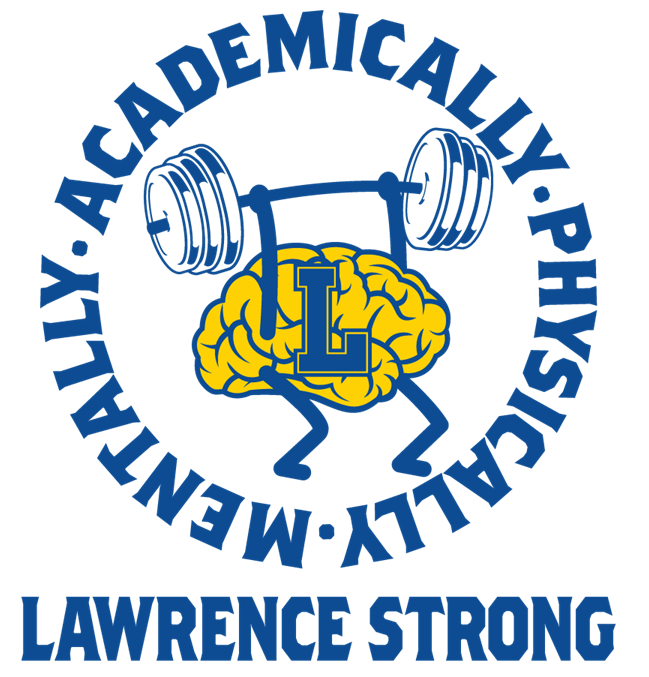 Good morning Lawrence families. This Thursday (April 22nd), Northwell Health will be at the Five Towns Community Center distributing Coronavirus vaccines to individuals 18 years & older. Appointments are required and can be made online at
https://northwellvaccine.force.com/s/?id=a1T4x000007TenCEAS


Good afternoon Lawrence families! We hope to see you and your students at 7PM on Google Meet for our Nutrition Night workshop with Izabella Levi focused on nutritious, balanced meals and building and maintaining a healthy lifestyle. Click this link at 7PM to join us:
https://us02web.zoom.us/j/2658418216?pwd=bmxJZDZIUnd5MFdZcThGVmdETS80QT09
Meeting ID: 265 841 8216 Passcode: 1234

Good afternoon Lawrence families! Tomorrow will be Nutrition Night for Kindergarten through 6th Grade! Parents and students are encouraged to attend a virtual workshop tomorrow, April 15th, at 7 PM with nutritionist Izabella Levi. Izabella will share information with families on nutritious, balanced meals, to help their children build and maintain a healthy lifestyle. This fun, interactive workshop emphasizes the importance of healthy eating. Click this link tomorrow at 7PM to join us:
https://us02web.zoom.us/j/2658418216?pwd=bmxJZDZIUnd5MFdZcThGVmdETS80QT09
Meeting ID: 265 841 8216 Passcode: 1234

Good afternoon Lawrence families! The current grant Lawrence received to provide Hotspots to families in need will be expiring after this year. We are in the process of applying for a new grant that will allow students and their families who do not have internet access at home to receive internet for free through AT&T through June 2022. The application can be completed tomorrow from 12-4PM at Lawrence Primary (#2) School by the gym doors. The application, and more information on the program, can also be found at
https://core-docs.s3.amazonaws.com/documents/asset/uploaded_file/1181806/AT_T_Application_Waiver.pdf
Let's Finish 2021 Stronger Together Let's make this a great final marking period. Whether your child learns remotely at home with you or in class with his or her teacher, it is critical that he or she attends all classes for the entire session, with the camera on (school rule), and turns in all work completed. Please help your child meet with school success and prepare for next year. If you have questions, please call the office at (516) 812-6121 or (516) 812-6122.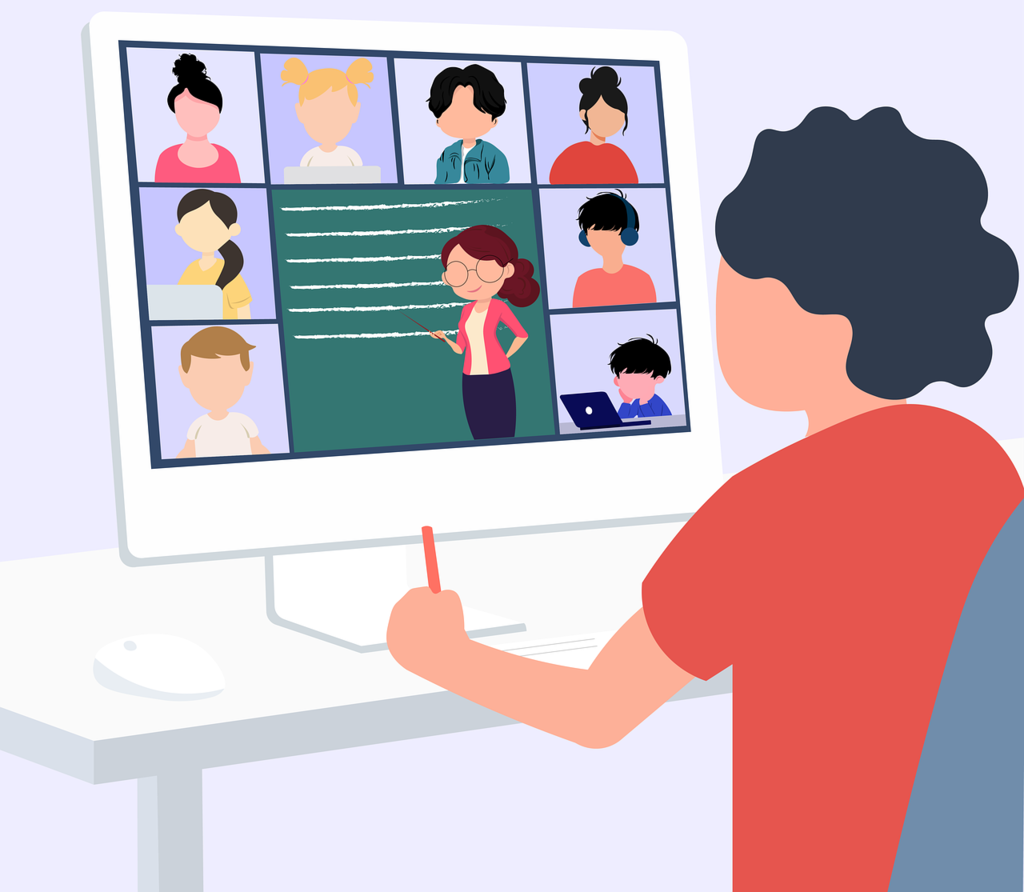 Beginning tomorrow, Wednesday March 17, the times for meal distribution at the Primary (#2) School will be 9 AM - 11:15 AM.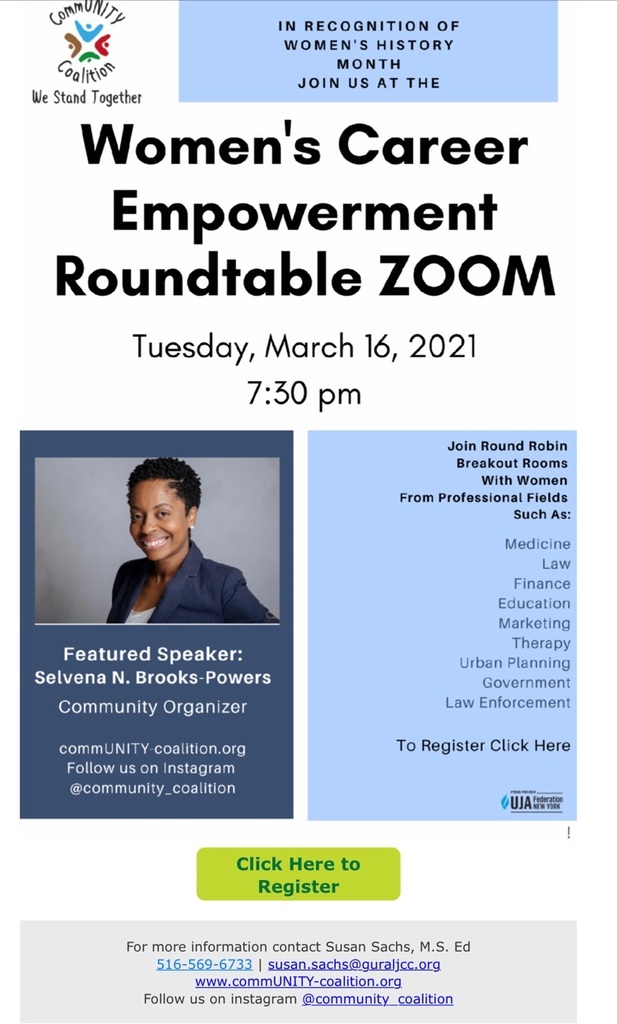 Lawrence Public Schools will be closed for winter break and reopen Monday Feb22nd. Please email
apedersen@lawrence.org
for any COVID questions or to report any cases. Remember please that travel out of state requires quarantine. Stay safe and stay well.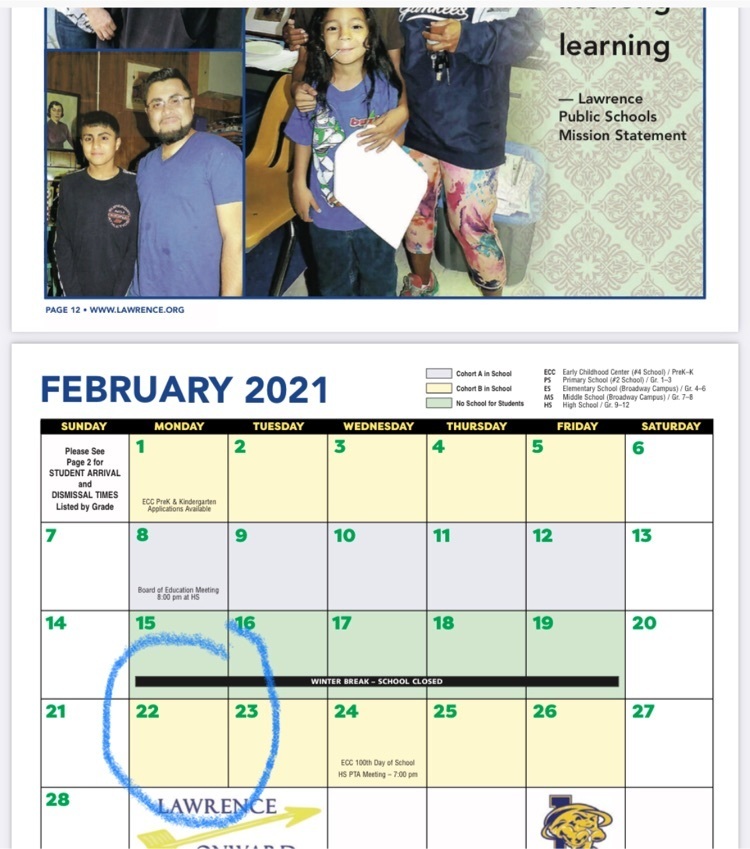 Check the news section of the District website or app to read all about the exciting things taking place in the Lawrence Music Department!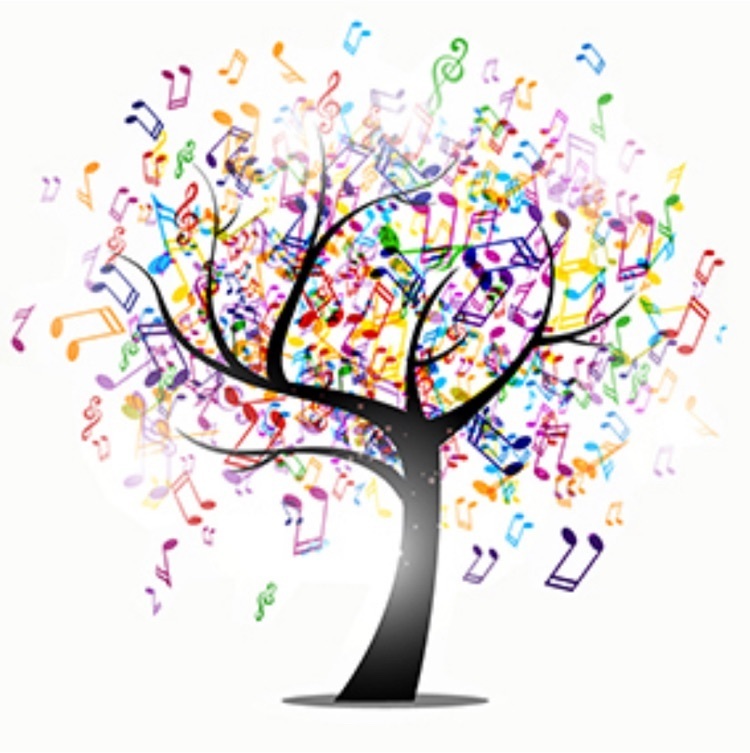 Good afternoon Lawrence We are returning to our hybrid in person school tomorrow, Wednesday February 2nd. Please be safe as the melting snow and dropping temperatures may make some icing conditions. Our facilities crew has done a great job prepping the buildings and we appreciate them. Today we report 3 new COVID cases, 2 at LES with no close contacts and one at the HS requiring close contacts to quarantine. We must stay diligent to the safety protocols. We appreciate all you are doing to keep one another healthy and safe. Dr. Pedersen

Lawrence Families, Tuesday February 2nd will be a full remote instructional day. The snow continues to fall and we hope everyone is safe and warm. There is NO in person school on Tuesday, it will be a remote day with live remote instruction. Thank you Dr Pedersen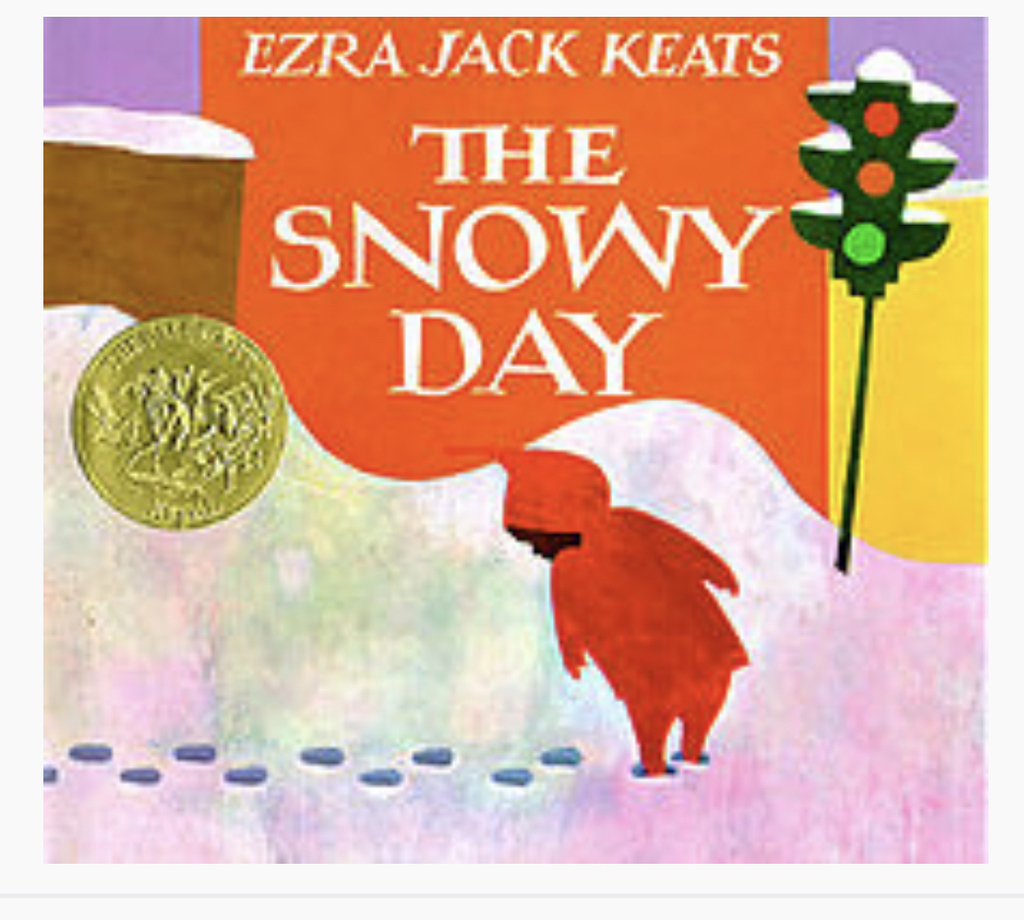 Monday February 1st will be a snowy day!Lawrence will have NO in-person instruction and NO live remote instruction. Our learners WILL be able to log into their google classrooms to see postings from their teachers. We want our learners to have fun in the snow, be safe, but also to check in remotely with their google classroom. Thank you. Be safe, always. Dr. Pedersen

Lawrence Friday January 15th We had no cases today reported districtwide today. Monday school will be closed in observance of Martin Luther King Jr. Day. The commUNITY coalition will have a special event Monday evening with guest speaker Dwania Kyles who was part of a group of 13 first graders during desegregation of the Memphis Schools. The link can be found on Lawrence.org. I hope you will join us. Thank you and stay strong, safe, and kind. Dr. Pedersen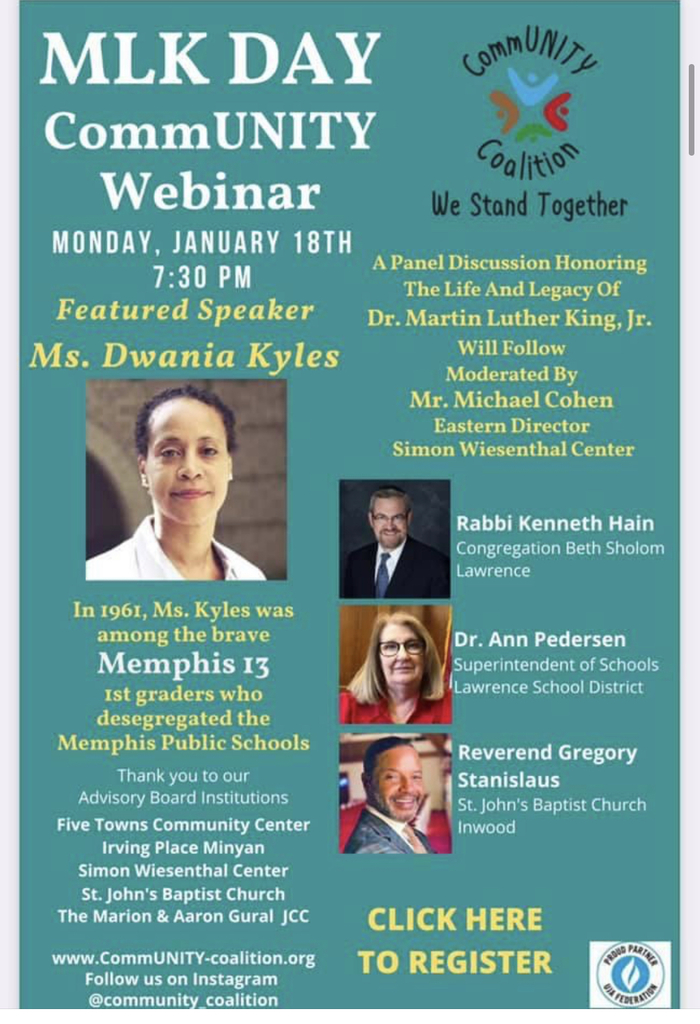 Lawrence Thursday January 14th Good evening. Lawrence had no reported cases today. We have approximately 40 staff and students district wide that are continuing their quarantine. The cooperation of all members of our learning community shows the strength of this beautiful community. Thank you. Dr. Pedersen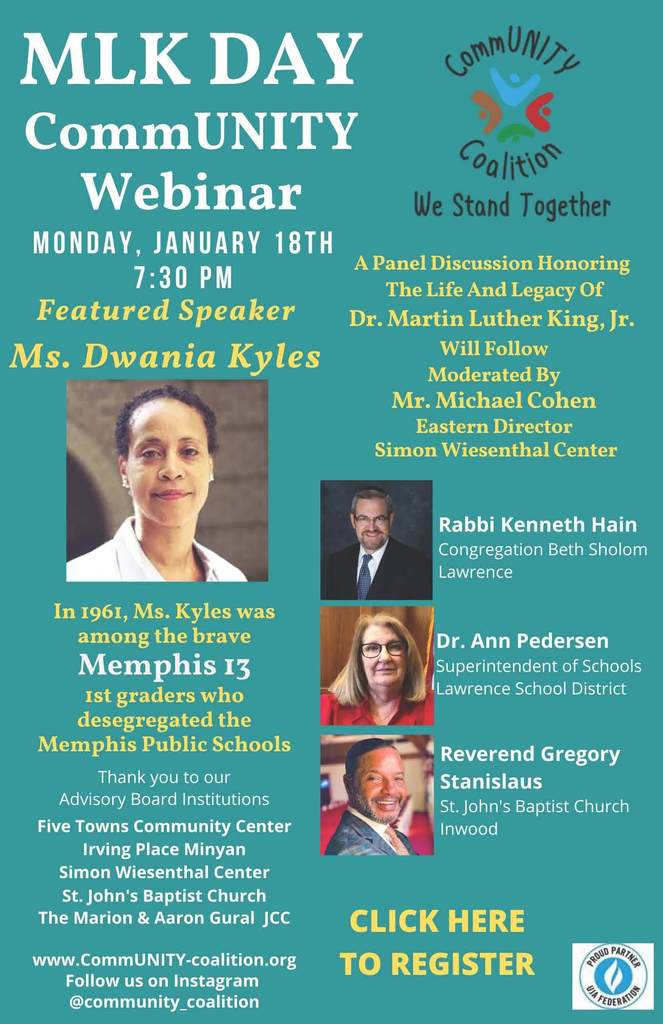 Some Lawrence staff , identified as NYS group 1A , have started to get the vaccine. This is very good news and we anxiously await vaccines being made available to our teachers, staff, children, and families. I'm pretty certain we all want one of these " proof of COVID vaccination cards".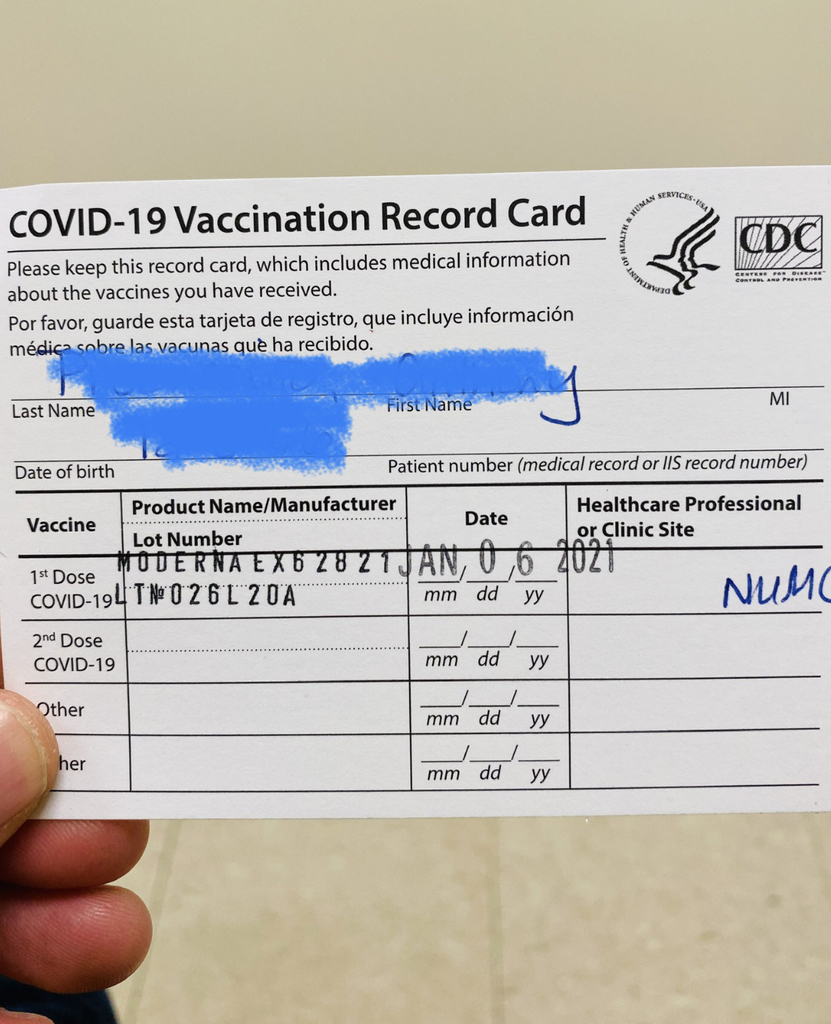 Lawrence's first vaccination! Nurse Susan Brooks from Lawrence Middle School proudly displays her vaccination band-aid and says " We can do this America!" Today the county opened up vaccination for school nurses. We are delighted to see this process begin.