LAWRENCE, NEW YORK (SEPTEMBER 2022)—This year marks the 21st anniversary of the 9/11 national tragedy that forever changed our country. To honor the heroes on that day and the lives that were lost, Lawrence Elementary School gathered on the front lawn of their school for their ceremonial changing of the flag.
Lonnie Ginsberg, Lawrence Middle Schools' band director, played Taps while the American flag was raised and then lowered to half-mast. As a school, students, faculty, and staff recited the Pledge of Allegiance. Jacqueline Beckmann, Principal of Lawrence Elementary School, reminded the students about the symbolic importance of the American flag. She spoke about how to treat the flag with respect by never letting it touch the ground and also how to honor the lives that were lost on September 11, 2001.
Lawrence Elementary School students read The Man in the Red Bandana by Honor Crowther Fagan. The inspirational story is about an American hero, Welles Remy Crowther. He worked on the 104th floor of the South Tower of the World Trade Center. He had a red bandana covering his nose and mouth and guided people to the stairway and led them to safety. The man in the red bandana made three trips to the sky lobby, saving as many people as he could until the very last moment.
For more information about the Lawrence Union Free School District and the latest District news please visit www.lawrence.org.
###
Photo 1-2: Lawrence Elementary School students with Superintendent Dr. Ann Pedersen and Principal Beckmann helping during the ceremonial changing of the flag Photo 3: Lawrence Elementary School students reciting the Pledge of Allegiance
Photo 1: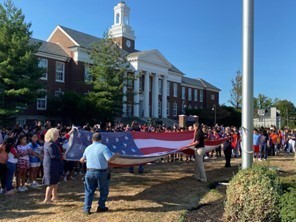 Photo 2:
Photo 3: